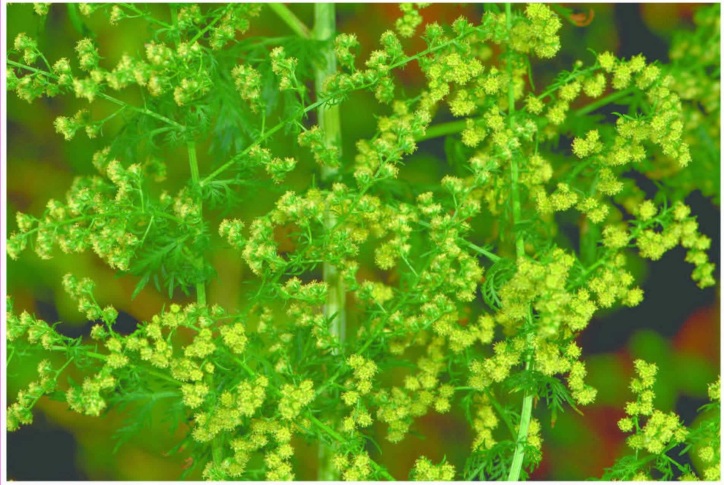 LA TAPA
Artemisia annua L.(syn. Artemisia chamomilla)
Fotografía de W. Arnold (Leissigen, CH);Nikon D200; 4-10-2008. Fuente (Source of picture):www.awl.ch/heilpflanzen. Con el permiso y por gentileza del autor (With the permission, and by cour-tesy of the author). Ver también (See also): http://www.awl.ch/heilpflanzen/artemisia_annua/index.htm
La Artemisia annua L., ajenjo dulce, o ajenjo chino (pinyin: qīnghāo; inglés y castellano: qinghaosu), es una herbácea perenne, aromática, que crece en todo el mundo y que se utiliza en China,
desde hace siglos, para tratar las fiebres. En 1972 la investigadora china Tu Youyou (el apellido es Tu) descubrió la artemisinina en las hojas de la planta. La artemisina y sus derivados (dihidroartemisina, arteméter, artesunato) se emplean, en combinación con otras drogas, en el tratamiento de la forma más grave de paludismo, la producida por el Plasmodium falciparum(terciana maligna) y, cada vez más, en la producida por el Plasmodium vivax (terciana benigna). Tu Youyou recibió el Lasker~DeBakey Clinical Medical Research Awardde 2011: "For the discovery of artemisinin, a drug therapy for malaria that has saved millions of lives across the globe, especially in the developing world" (http://www.laskerfoundation. org/awards/2011_c_description.htm). Nada mejor que leer el relato de la inventiva Tu Youyou sobre su descubrimiento, enorme contribución para salvar vidas de los pobres del mundo: The discovery of artemisinin (qinghaosu) and gifts from Chinese medicine. Nature Med2011; 17: xix-xx. Es también útil: Neill US. From branch to bedside: Youyou Tu is awarded the 2011 Lasker~DeBakey Clinical Medical Research Award for discovering artemisinin as a treatment for malaria. J Clin Invest2011; 121: 3768-73 (acceso libre). La malaria mató en el mundo a 1 238 000 personas (intervalo de incertidumbre: 929 000-1 685 000) en el 2010; en Africa 1 133 000 (848 000-1 591 000). Ver: Murray CJL, Rosenfeld LC, Lim SS,
et al. Global malaria mortality between 1980 and 2010: a systematic analysis. Lancet2012; 379: 413-431.